Statement jewelry it is one of my favorite aspect of being a jewelry designer because it allows me to create something that speaks for itself: when you wear statement jewelry pieces you can convey a strong message without saying a word.
In this article our objective is to explain in a simple way, various steps that are necessary in order to create several statement pieces worth of any fine jewelry collection, including how to wear them, because often times we do not know how many efforts and how difficult is to create a jewel that is original, wearable and that takes your breath away.
We already spoke about what to look for in a gemstone and in a very recent buying trip, I found this beautiful open color amethyst, cut for perfection. As we mentioned before for me it is very important to choose extremely carefully the right color of every gemstone we plan to use in our collection: in this case the color is almost ideal, in fact, it has a medium tone and an intense saturation, without see through effect  when viewed face up so the light bounce back nicely to our eyes even in the darkness.
These qualities are fundamental for they will be major factors in the final appearance of our statement jewelry ring.
Color combinations are very important because they are part of the story that I want to tell. It is a story of jewels that I want as cohesive as possible without being too matching with the silhouettes. So that when I introduce it to a retailer or at our own private presentations, it flows well.
In this case, I chose to pair the amethyst with rubies and a sprinkle of diamonds, just like arranging the various ingredients of a tasty dish. I have made countless jewels in purple and red, so I know that is a combination that works, it is easy to wear, and is flattering to various complexions. Plus it will display well near all the other jewels we make with similar colors.
To be precise:
I want to raise the overall sparkles with a splash of round brilliant diamonds set at random to break the intense geometry of ring.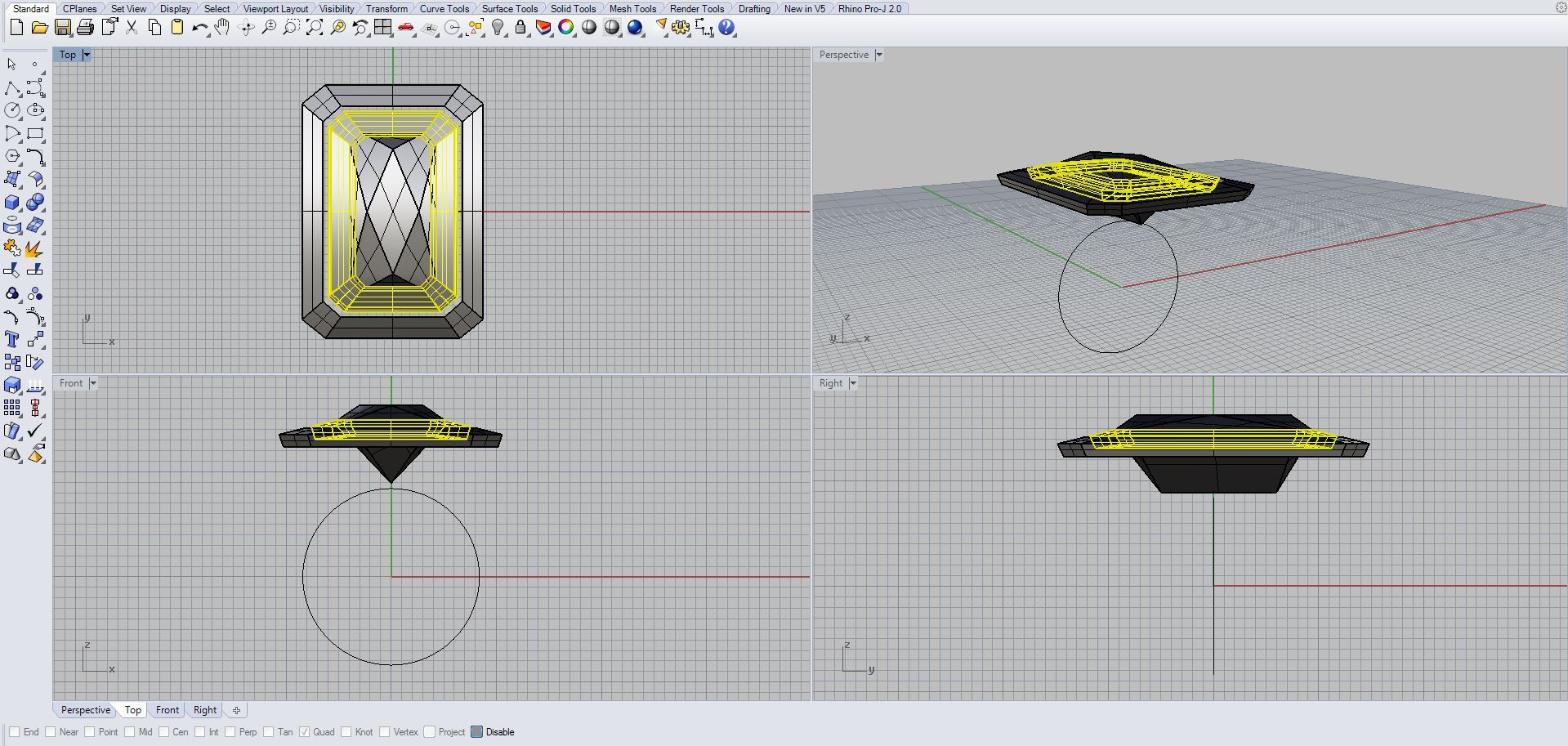 CAD designing is one of the parts which are the most fun for me because I get to sit next to the technician with whom we exchange ideas on how the ring should be made. In this case being the center gemstone very angular and geometric, I want to make a design that is very geometric but with a twist.
In the initial design, I see that the ring is too flat so we have to correct the surfaces and the inclination of the angles so that the final jewel doesn't look too flat and doesn't look too high. Most clients, in fact, do not like a ring that "sticks out", as some like to wear them with gloves when in cold weather.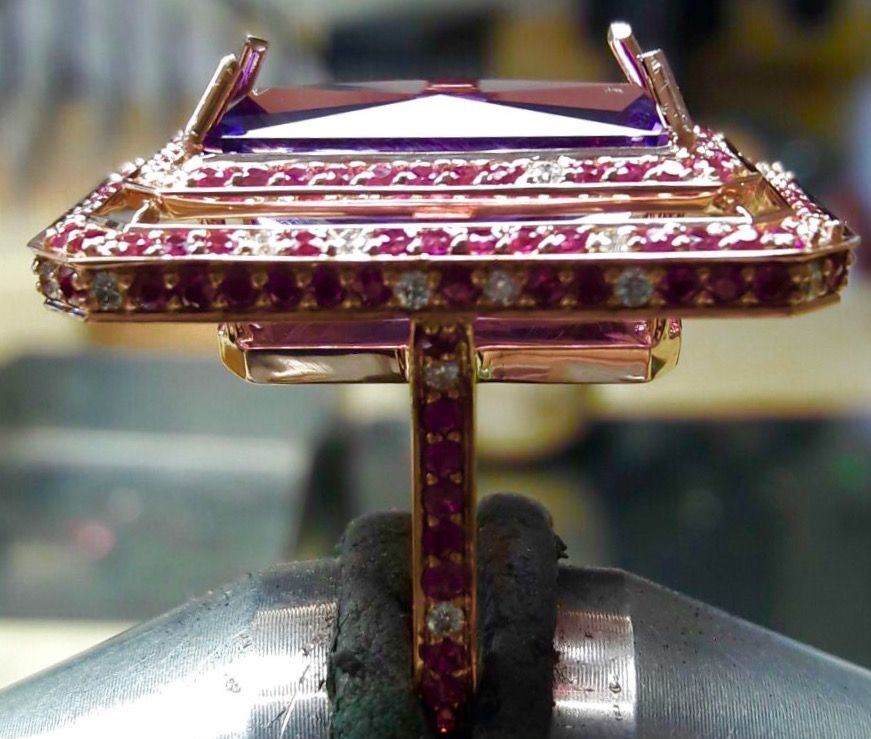 Here is our statement ring just about to be finished. You can see how tridimensional it looks and how well proportionately the various layers interact with each other: the ring is not too flat and not too high to be uncomfortable. The lines are very straight and the center amethyst looks just like suspended, which is exactly what we want to achieve.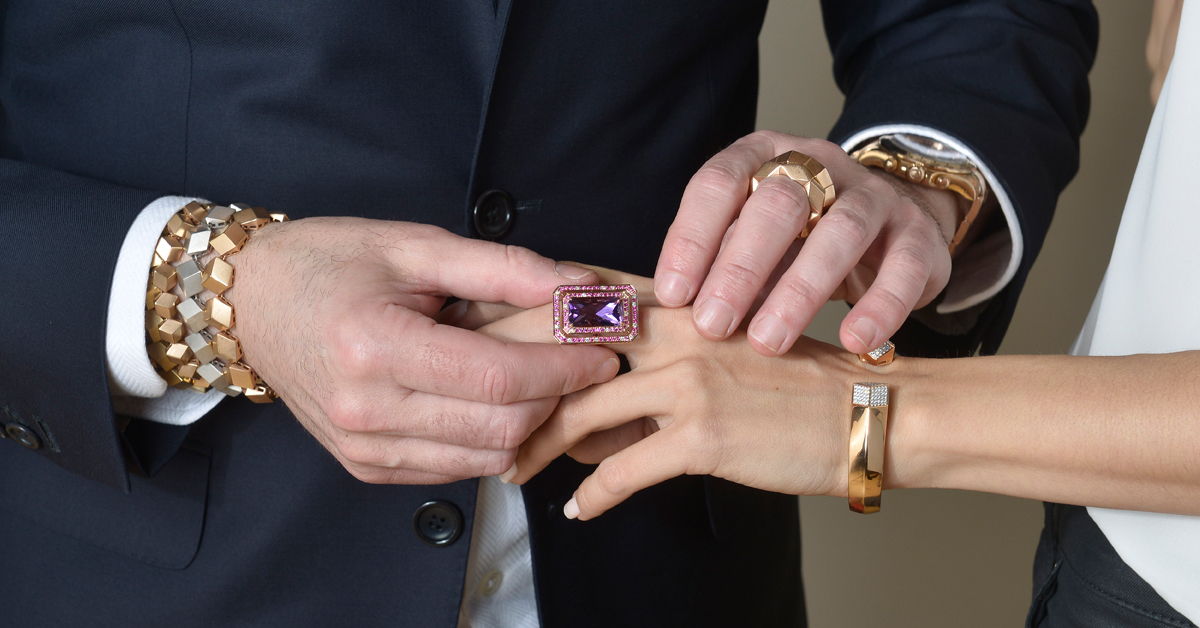 And here is our statement ring finished. Even from a distance, you can appreciate the size, the perfect proportion, the warm Mediterranean color combination and the overall brilliance. I personal love to have the client wear these kinds of statement jewels at the middle finger to create an even more dramatic look.
If you are looking for a statement jewelry set you can easily enjoy this ring with a pair of very wearable earrings that are not exactly matching, but are similar in color combination and go well together without being overwhelming.
In my opinion, it is important to keep the focus of the attention on only one piece of statement jewelry, and adding just a hint of color that coordinates well with our main jewel.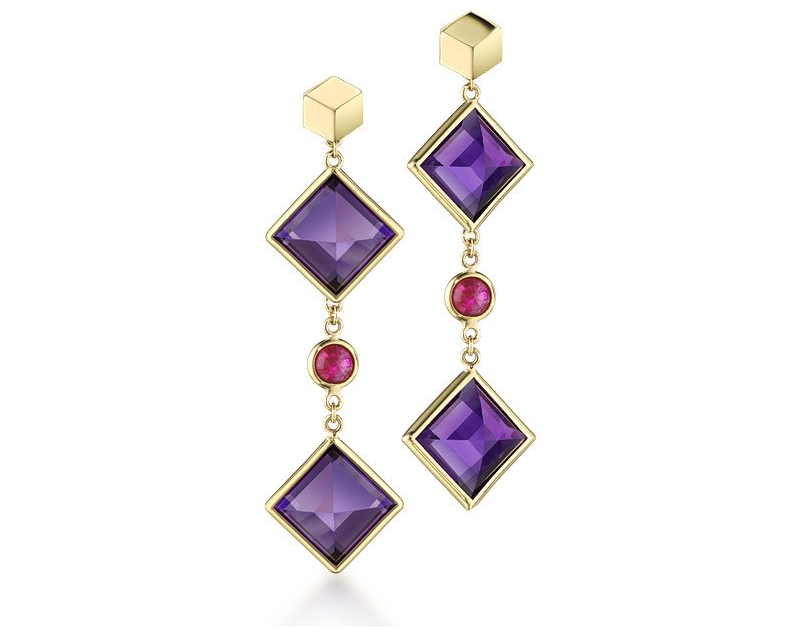 Now:
When it comes to statement jewelry pieces I have an interesting example of a divine necklace we won an important award in our industry.
I had to be grateful to my team because they had to sit me down and forced me to come up with an important statement necklace, a show stopper because it was just not coming to me and I had really to make an effort to create it.
And as usual we start with an unassuming 16" circle around which we assemble the various elements of the necklace: at this stage I do not know what the necklace is going to look like yet, I just play around with the elements but I love the idea to be able to work without a fixed budget, just making a big, bold and sparkling statement necklace  with the intention to achieve an important look that does not require saying a word to explain it.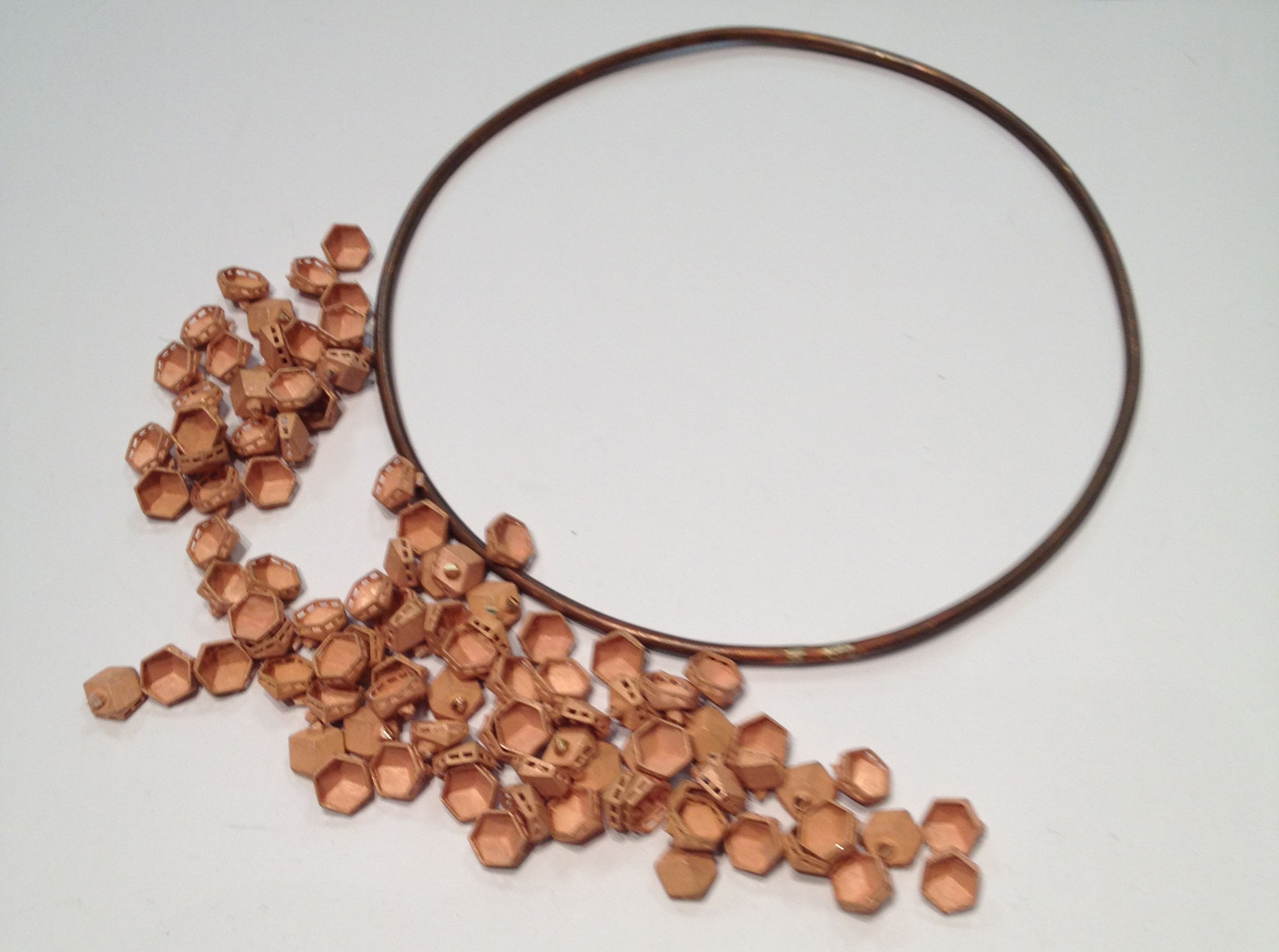 Fortunately, the picture does not show the quantity of elements of rose gold, pink gold and white gold, diamonds and geometric tools scattered all over the table in order to find the right inspiration for a unique necklace.
In this stage, oddly enough, I made the mistake to work on plain paper instead of on a sheet of wax, so every slight movement of the table threw the metal around every time I was making a new silhouette: very annoying.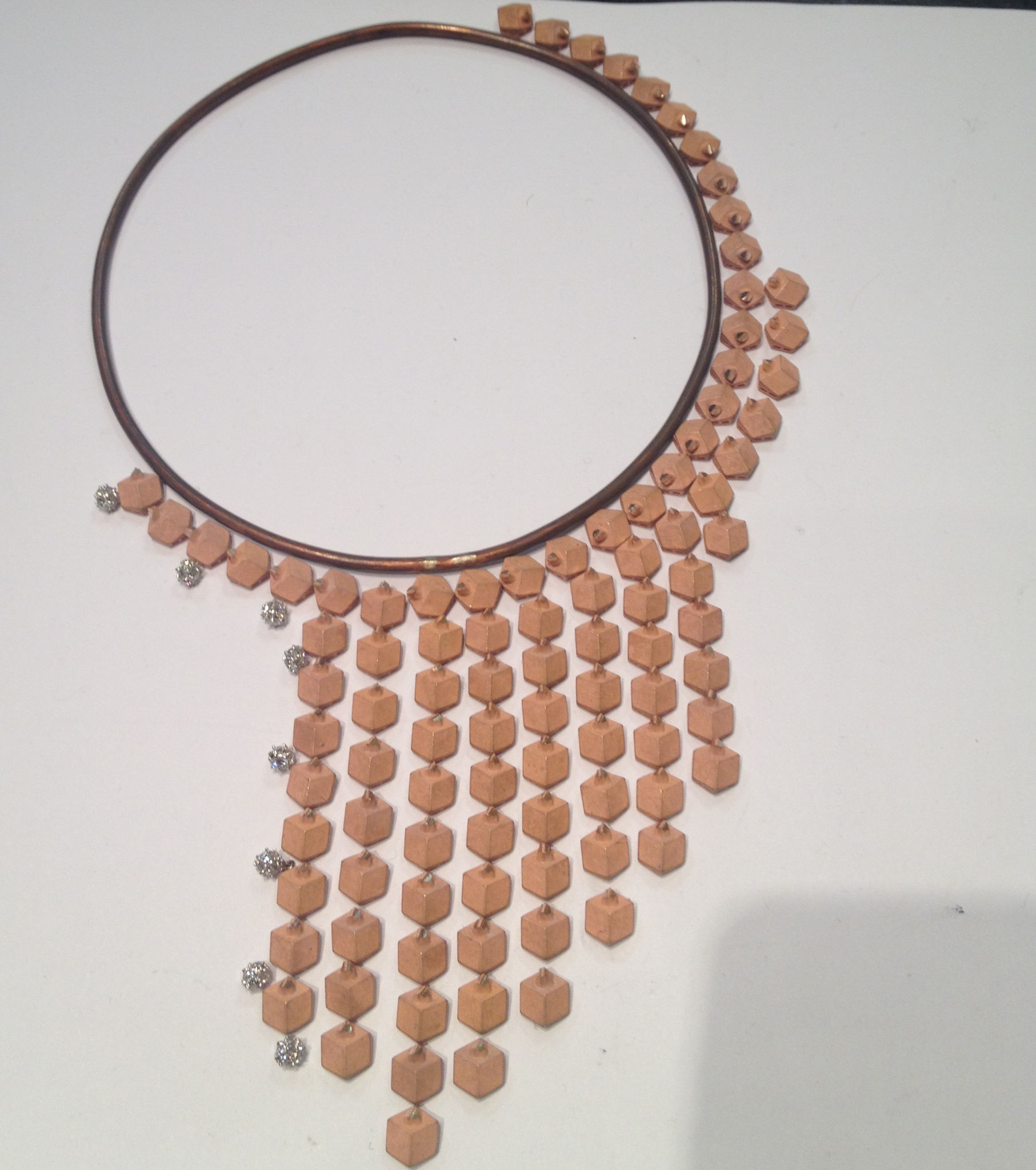 This was a very long process in which I had changed my mind many times, as I am working for stock and not on a specific client request: should I make it big and bold, should I make it smaller and more delicate? I am thinking and thinking who would wear this necklace, who is the client for such a necklace.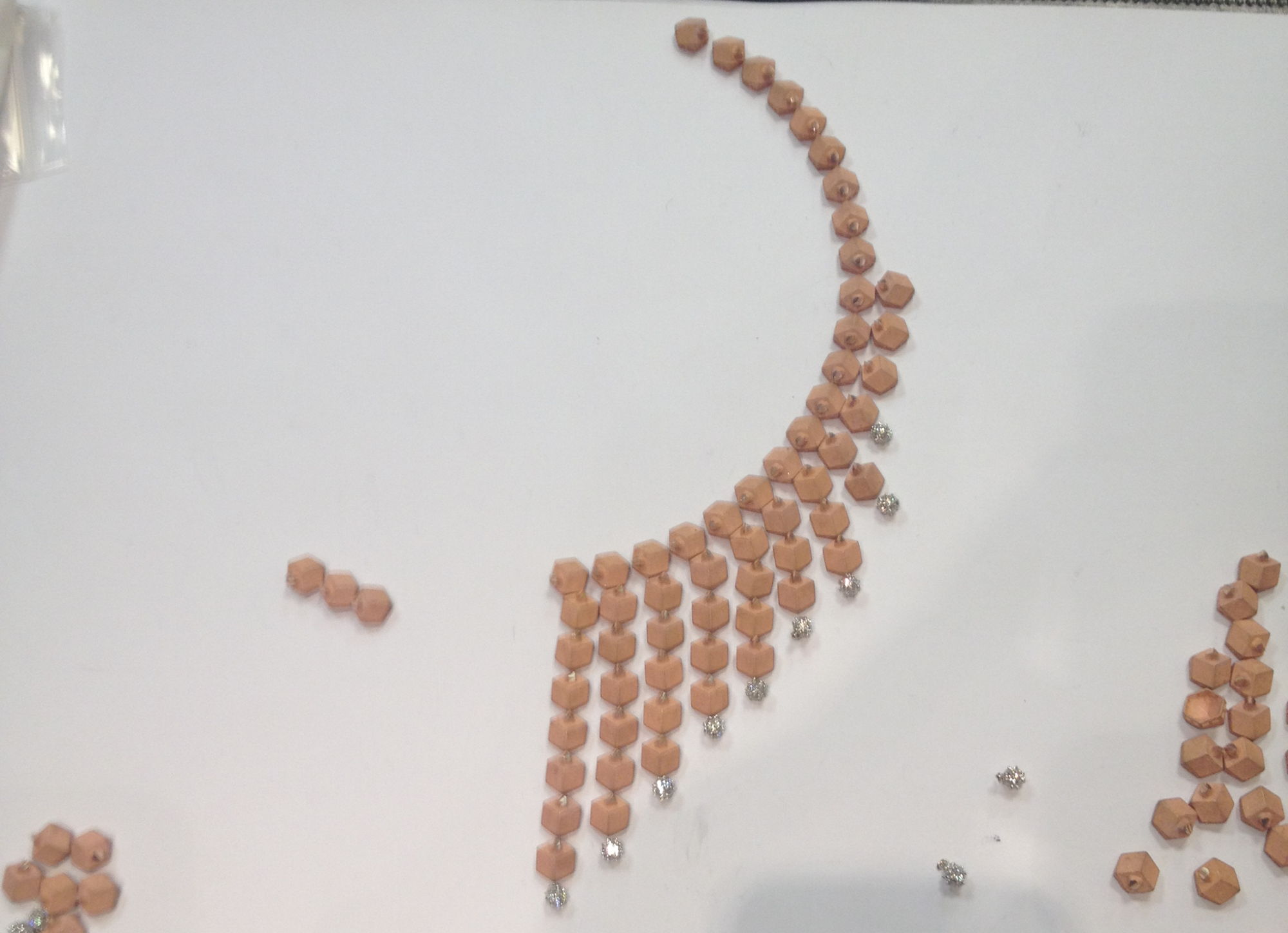 I realize that thinking about the client, Imagining the client helps me a lot in creating this statement necklace and in fact, I came to the conclusion that only a woman with a strong character, confident, and with a very sophisticated taste would appreciate it, and enjoy wearing it.
Which means that I had to make the necklace as rich and full as possible not only from the front but also from the back.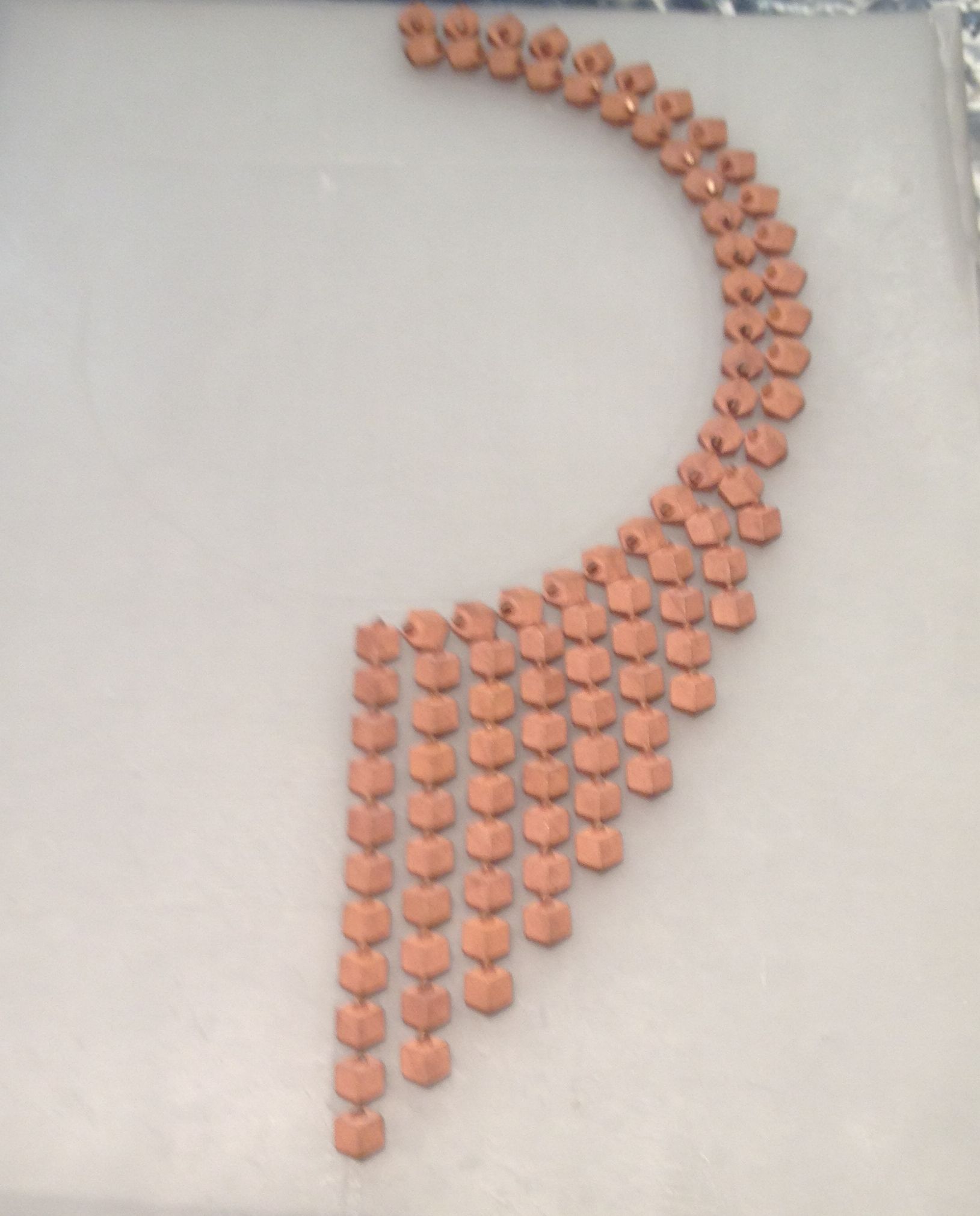 This is crazy:
I might have made it and remade the layout it no less that 10 times before going for this version and finally it came out like this.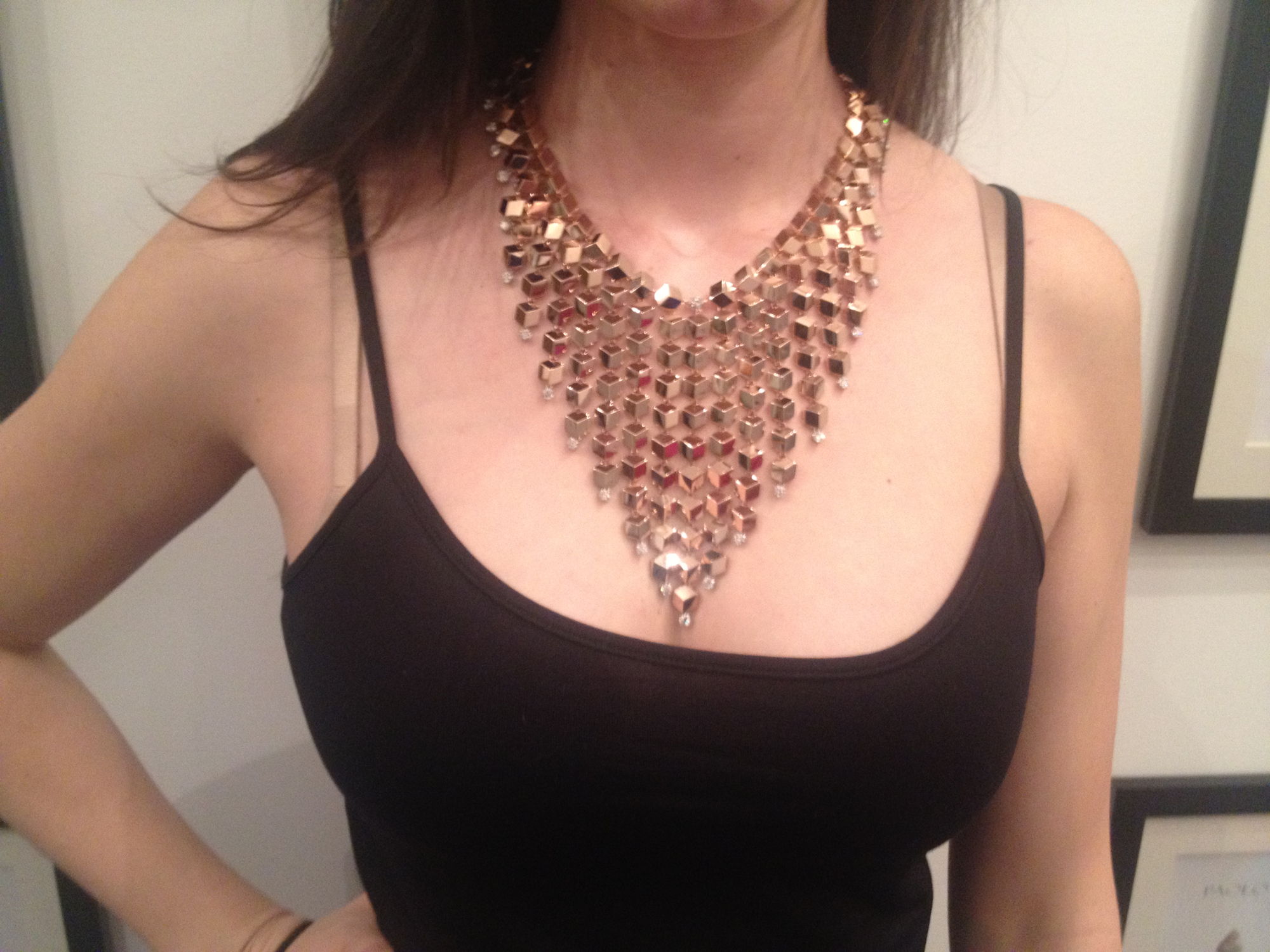 And as usual someone from the team could not wait one single second to try it on as it came out just gorgeous. And as usual, I could not resist snapping a quick picture to see how it lays and post it on our Instagram account.
Here is what's interesting:
There is something that does not fully satisfy me yet.
As I was thinking about making it full and impressive in the front and the back, I realized that the sides were not proportionate and somehow not as fulfilling to me.
Take a closer look at this:
There is only a line of "Brillante" elements on the sides.
So I decided to add a second row or rose gold Brillante elements to go all around the back of the neck and that made all the difference: now our statement jewelry necklace is fully balanced on every side and ready to be submitted to Couture Design Award which is the most important competition in the jewelry industry.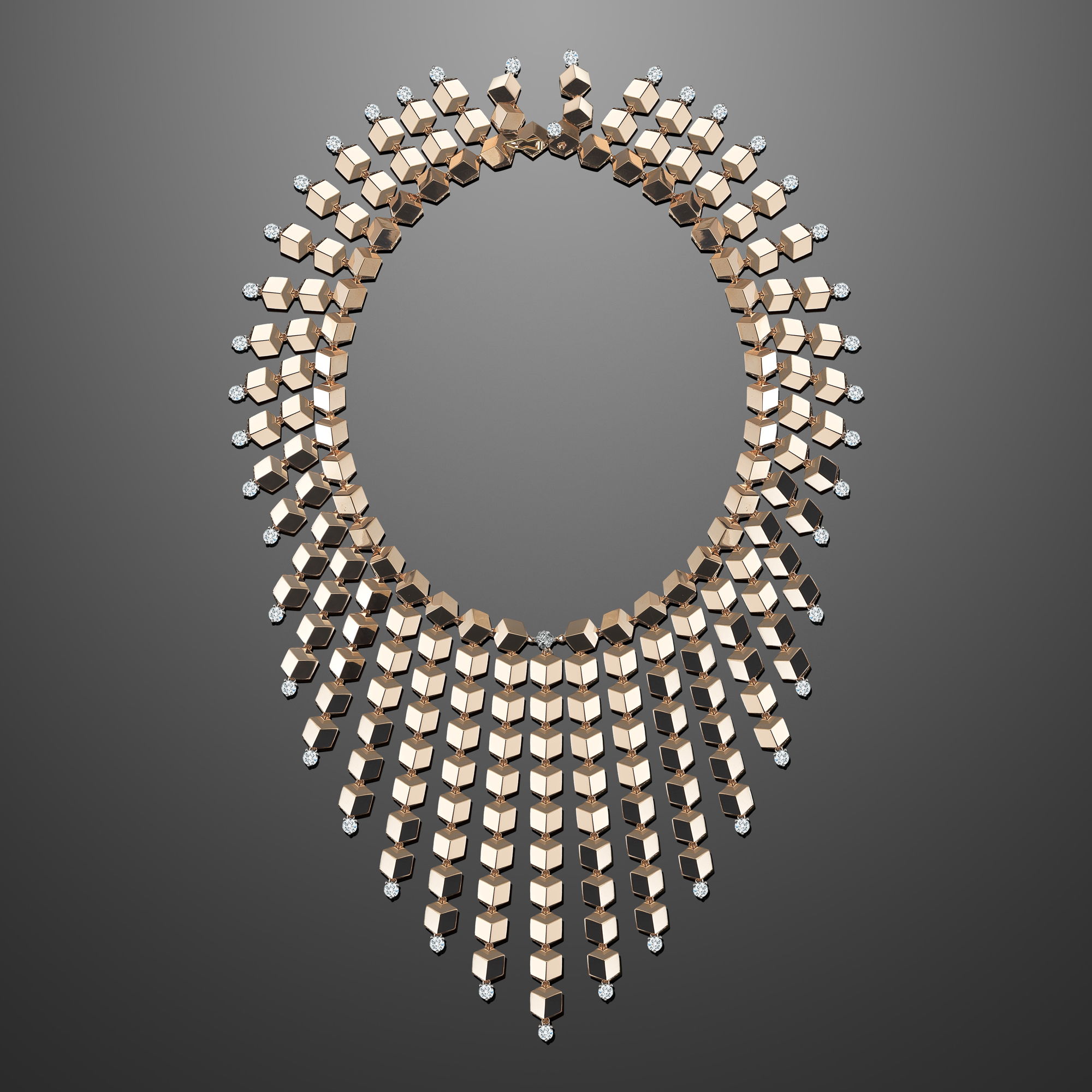 And here is the way I like to have the necklace worn: strong red lipstick, smoky eyes, sleek hairdo and a very simple black dress, preferably with no embellishments of any sorts.
This kind of statement necklace it is so powerful by itself that you do not need to accessorise it with anything else, a classic example of conveying a strong message without saying a single word.
What is the secret:
A specific technique applied by devoted American artisans on our team and developed through the years which involves very high polishing. During the process, a great deal of gold is lost, but the final result is just breathtaking.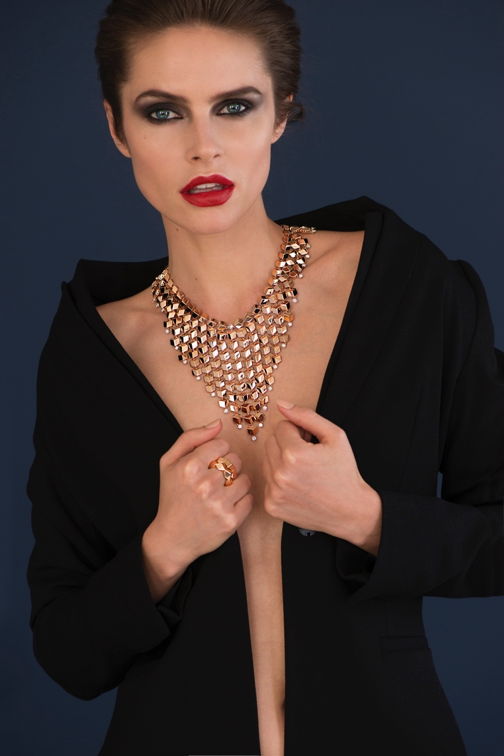 Another example of a statement jewelry pendent that took us a while to perfect is this "ex-fat" pear shape Morganite we had for a while sitting in our safe for a few year.
Morganite is a wonderful gemstone because it comes with a warm chocolate color and it is fairly free of inclusion, unlike its relative, the emerald which is in the same mineral species, but it comes with "garden like inclusion", or "Jardin" according to GIA.
I had this large gemstone of odd proportions for a long time and never knew what to do with it. I only knew I did not like it. Therefore, it was laying around with me for very long time.
One day I got the inspiration and finally decided to make it perfect once and for all. So I  told our master cutter to just lose as much material as he wanted with the condition to make it so that it would look wonderful in the day and magnificent in the night. All this while keeping the important threshold of 100 carats weight.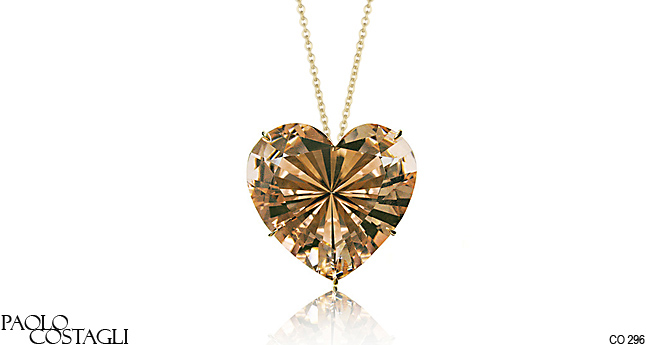 Here is the difference in our gemstones:
By recutting our gemstones for perfection we are losing a lot of their original weight, however, we optimize their optical properties so that the light travels correctly within the materials. That gives us the result of the gemstone being full of color from every side and glowing with sparkles from within in any light environment but especially in the night.  
In this short video, you can appreciate the return of light during the day and in a very dark environment
Occasionally I move from cutting edge jewelry designing techniques (CAD drawing) to more traditional ones, sketching by hand an idea in my mind.
In fact one of the things that I have always been fascinated with, is the juxtaposition of a very "old world" looking, traditional cushion shape, being set into a modern, avant-garde, wearable mounting.
In this case, we obtained a divine smoky quartz with a very strong personality by  recutting it with a small table, thick crown, large facets and large open culet, always keeping in mind that it had to be part of a unique bracelet, for only one highly sophisticated client.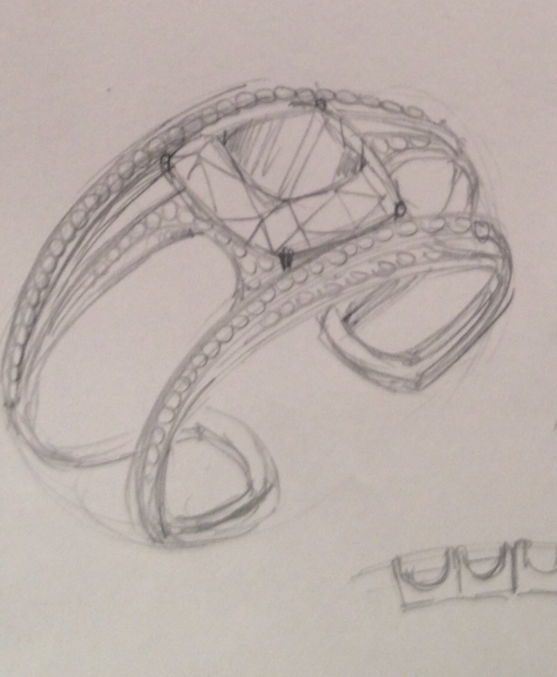 One requirement in my mind was to have this unique bracelet sparkling from every side regardless of the position of the hand and wrist, and again, regardless of the kind of light environment.
And because the center gemstone was of a rich chocolate color, I wanted to use brilliant diamonds of different colors shades including pure whites, throughout the whole surface which had not to be imposing but discreetly visible.
Again, I imagined a tall, refined brunette woman, confident and empowered with my unique bracelet, dressed with a chic rose gold evening gown, making an entrance at a Ball in New York City.
And after much waiting, many changes of the diamonds positions, the filing of the metal, polishing of the internal surfaces, refining the prongs our unique bracelet came to life as if it was suspended on a frame of warm hues pave diamond, sparkling exceptionally. 
One more time someone in our team could not wait for a second more to try it on and to my surprise, something I imagined being a statement bracelet for evening occasions, looked really good with a daytime outfit. 

And I could not wait to snap another candid picture for our Instagram account.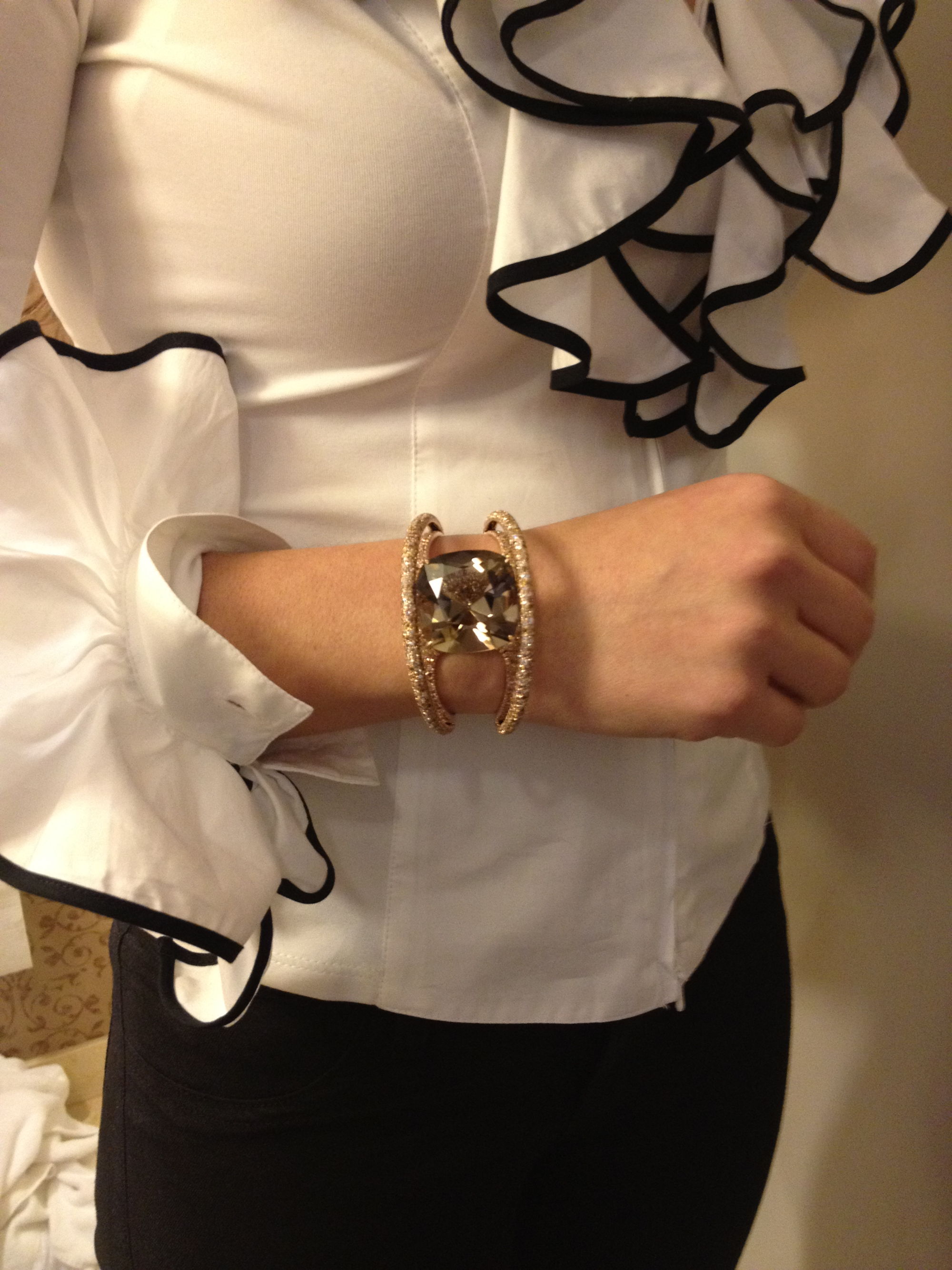 The core message is:
Creating fine jewelry ex-Novo and in particular statement jewelry, involves a lot of trial and error and mostly a lot of patience paired with deep knowledge of all the aspects of the project. To all those who want to follow the path of creating statement jewelry pieces without copying and without taking shortcuts, we recommend envisioning your dream client, your muse.
It is in fact by imagining who would wear this jewel which still does not exist, that we can come up with an original idea. Thinking about the client would make us consider important factors like wearability, comfort, do ability and modern jewelry design.
By taking as examples chic, refined and confident women of the past and the present, we can certainly find the inspiration to create statement jewelry that does not need any explanation and can convey a strong message without saying a word. And we can certain find suggestions on how to wear these statement jewelry pieces in chic, unexpected and sophisticated ways.
To conclude for me it is about empowering women with style and effortless elegance.